I have used the old Rules and then adapted and updated them...
General Stuff


Higher resolution images are a lot easier to work with and 'shop. The larger the image, the easier it is to select bits, and edit them as realistically as possible.
The quality of the image is also important. If the image is 'noisy' or blurred etc.. it is a lot harder to work with, and the end result will suffer.
For example, this pic is going to look a LOT less realistic if 'shopped in any way:
..compared to this pic:
..just due to the poor quality of the image.
Pictures with poor lighting, either very bright, or very dark, will make colour changes, and matches, very hard.. and will cause difficulty in achieving a decent end result.
For example, asking for a part to be added to this pic, would be very hard to colour match, because of the very high exposure of the pic. Silver cars should hardly have much colour in them, however because of the exposure of this pic, the silver is very blue looking:
Part Change Requests
If you want any parts adding to a vehicle, then you
MUST
provide donor images of the parts! People doing the 'shops put in time and effort, so the least you can do is provide images of the parts for us to work with.
The donor images need to be at the same angle as the image you want them 'shopped onto. If the angles are too far out, then the parts will need distorting, and this can only be done well upto a certain point..
For example, if you wanted SRi alloys 'shopped onto this pic:
..then providing a donor pic such as:
..is USELESS. The image would need to be at a MUCH better angle, such as:
Parts such as headlights for example, need to be at a near perfect angle, as distorting them, means that the rings of the lights go out of shape, and just look rubbish!
With wheel 'shop requests, donor images of the wheels should ideally come from another car. This way they can be transferred straight across, including breaks, calipers etc. Lighting and shadows are also much more realistic if the wheels were on another car.
Providing pictures of wheels with white backgrounds/writting over them, will most likely require too much effort from the 'shopper to get them looking good and realistic, and the request is likely to be left.
For example, asking for these wheels:
..to be 'shopped onto this car: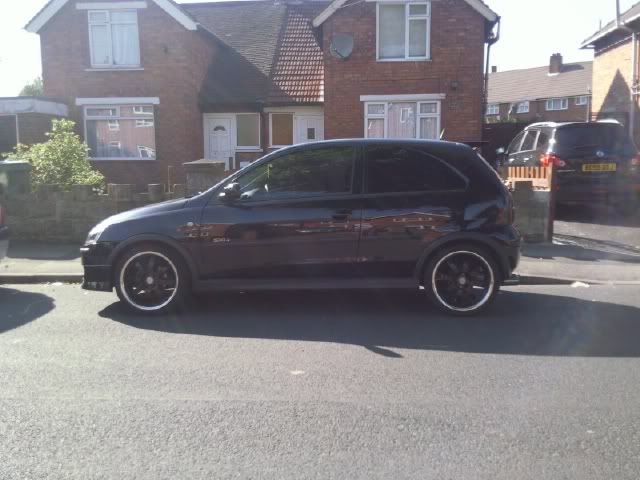 ..will only produce results such as:
It would be impossible to get it looking anymore realistic than this!!
Producing a decent donor image, such as:
..to be 'shopped onto this image:
..will produce MUCH better results, such as:
Colour Change Requests
With colour change requests, always try and include a donor image of the colour you require (unless its just 'green' for example). It's no good just saying "i would like this car in MG Tropher Blue".. as very few people will know what that colour looks like.. so you will need to provide a picture of this colour so the 'shopper can attempt a match.
When asking for wheel colour changes, if your wheels are black/white, they will be VERY hard to shop realistically. Try and find a donor of your wheels in a standard silver colour, and post this along with your image. Working with silver is MUCH easier and will end up in better results for you!
If you can do these things for us, we can provide good quality 'shops for you! That way everyone wins
:doublethumbs:
(If anyone has something to add let me know and I'll edit this...)