Discussion Starter
·
#1
·
Hello Corsa drivers out there. I am new to the board and as requested in the newbie lounge I'd like to show you my car.
Opel Corsa C, three-door, late 2004 facelift model, Njoy interior, 1.2 16V.
has been transformed to
"RollinOnChrome"
modifications:
-added fog-lights to front bumper,
-replaced standard grille (lower ones) with those from the Gsi (same like Vauxhall's VXR I guess),
-got paintjob done on the side, front and back rub-stripes,
-replaced upper grille with Irmscher part,
-replaced side mirrors with Irmscher (electrical) ones,
-added Irmscher wing on the back,
-tinted windows with CfC "anthracite style" foil (not as dark as black ones),
-tinted visor in "anthracite style",
-added Lumma GS/R eyebrows,
-replaced Opel Blitz with Chevrolet emblem,
-replaced taillights with Irmscher's black variant,
-lowered car by 70mm and 40 mm with KW adjustable suspension (INOX line, series 1, stainless steel shocks),
-modified KW suspension with Astra H four-door lowering springs on the rear to lift the heavy stereo equipment,
-added K&N air filter,
-added three-inch motorsport exhaust system (starting at catalytic converter) by Lexmaul Opel Tuning,
-new wheels: OXIGIN "ONE" in 7 x 15, FULLCHROME edition,
-tires:

Goodyear

Eagle F1 195 / 50 R15 82 V,
ICE
:
-Spectron SPH2200 DVD / CD / MP.3 / WMA Tuner with IR remote control,
-2x MDS Sunvisors with 7-inch TFT flatscreens (driver and passenger side) with remote controls,
-2x ESX Alloy-Cone Subwoofer AL-10, 400 Watts RMS,
-Phonocar adapter for headunit, Charcoal in colour like the rest of my interior,
-Bosound cable connectors,
-Zapco symbilink cables for the digital monoblock amp,
-Zapco Reference Series R500.1 Single Channel Amp with electronic xover 12dB/oct. HP/LP
EHV Output circuity – Dynamic Bass Conrol Port (powering my ESX AL-10s)
-Zapco Reference Series R350.2 two Channel Amp with electronic xover 12dB/oct. HP/LP
Bass Control Port (powering my front system)
-EM-Phaser NEO XT-3 front speakers (kickbass) and tweeters and crossover,
-Dietz cables,
-install in black leather,
-subwoofer box custom built to fit in smooth
..to be continued...
Some pictures (more to come once weather changes and I can get a hold of batteries for digi cam):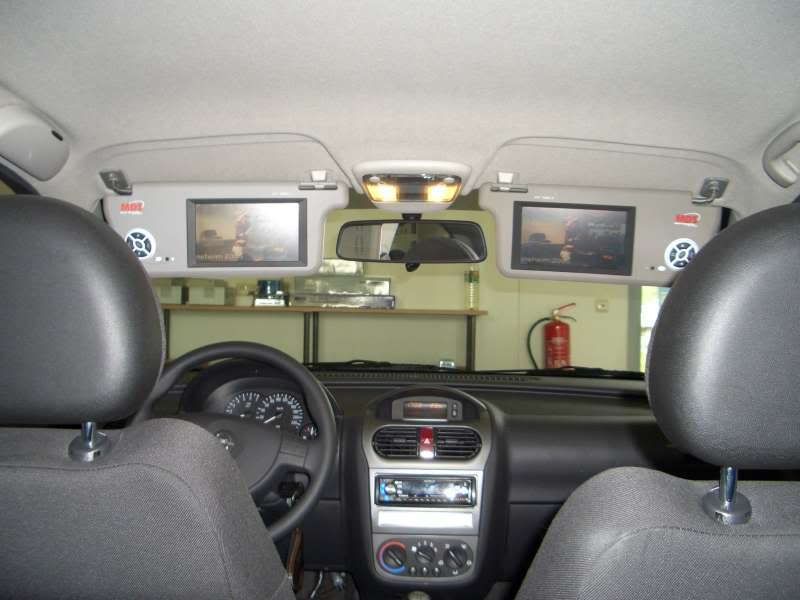 and one more (it is a bit older and the eyebrows haven't been added here)